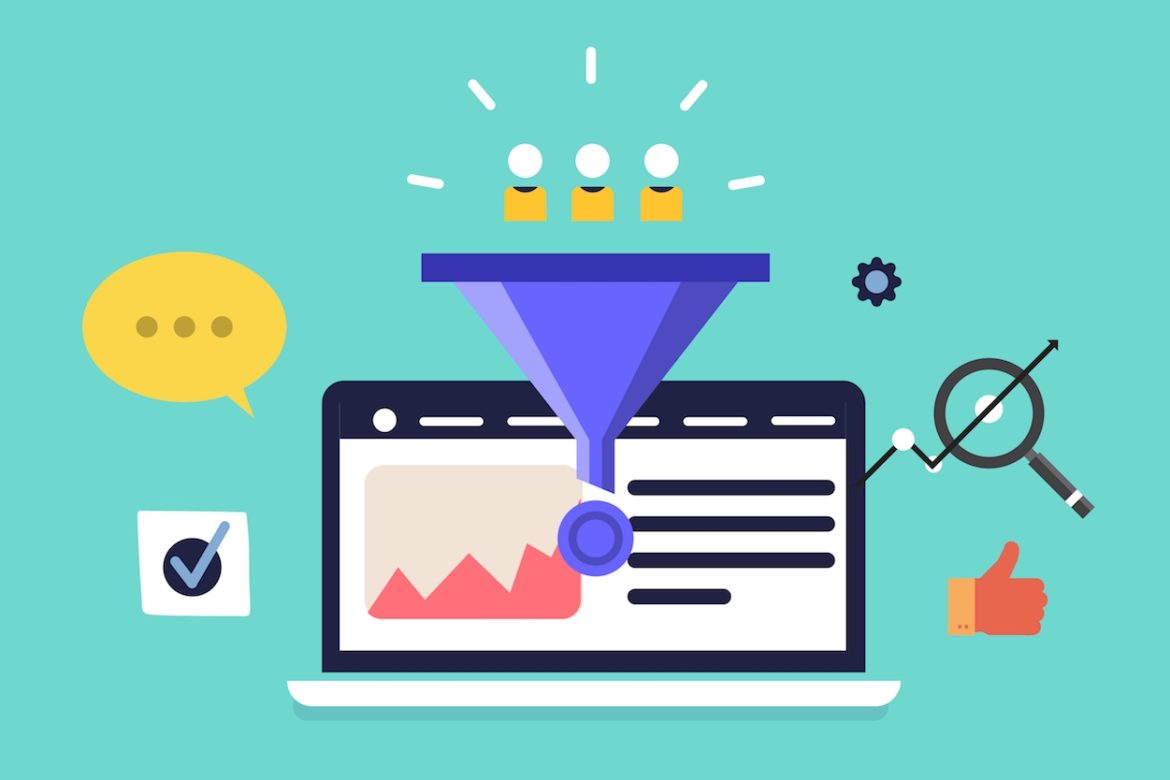 Your Website is Your Best Marketing Tool
There are millions of internet users across the country and all over the world. Think of the possibilities! Of all those people, surely some of them need what you have to offer. On the other hand, there are most likely many other businesses that do what you do. To ensure you're reaching those people, that they stay on your site, and that they eventually buy, you have to make sure your website is your best marketing tool. Here are 10 effective ways to use website marketing to convert your visitors to new customers and build a loyal following.
If you are new to blogging and don't have a website yet, get started with a new domain name here.
1. Use SEO to Improve Your Organic Rank in Search Engines
If you haven't already, you should perform keyword research based on your marketing goals. This is key to getting started with your digital marketing strategy. You need to know where you stand among your competitors and have a direction in mind for driving traffic, and this comes through SEO.
What Kind of Keywords Should You Focus On?
When people search for what you do, you want your site to be at the top of the SERP (search engine results page). For the best return on investment, choose strong long-tail keywords—specific/niche terms that those ready to buy will use in their queries—to focus on optimizing and building content around. You'll also want to look for keywords with low competition and a high monthly search volume.
On-Page SEO
Done right, you can use search engine optimization (SEO) to get your website to rank high in search engines and receive more website traffic. There are on-page SEO factors you'll need to optimize (i.e. keyword inclusion in various locations). We use Yoast, which gives you a handy checklist of these factors. Recently, Yoast has undertaken a recalibration project to evaluate and update their checks to better reflect the current SEO landscape and incorporate more science into the validity of those checks. These new SEO analysis features are available now in Yoast SEO.
Link Building
The more backlinks (or "votes") a page or post has within it, the better it will rank on Google based on their PageRank algorithm. The more votes it gets, the more it can pass onto other pages through outbound links. Popular pages are ones that get a lot of votes, so you need backlinks to get those votes to get a better Google search ranking. This is especially true if you get a vote from a more popular page than your own. Link to other credible sources within your content. This sets a good precedent. Basically, when you link to others, they are more likely to link back to you. Establishing working relationships or affiliate partnerships with other influencers in your space is also a great way to get more high-quality backlinks.
Technical SEO: It's all in the Theme
Capturing more organic search is not just about keywords though. You'll need to address technical SEO factors as well. You can find any technical SEO issues by running website audit software. However, if you choose a theme that is SEO-friendly out of the box like Mai Theme, you'll mitigate these issues to a virtually non-existent level.
Content is Master and Commander
Or content is king…what have you. Just trying to mix things up. Cliches aside, it's all about content and things are evolving where even traditional keyword-based SEO is becoming less important and content is becoming even more important.
Let me break that down so you don't misunderstand. Keywords and keyword research are still very important, BUT having high-quality content that includes the right terms, is the right length, and includes the right elements based on what similar, already ranking competitor content looks like is even more important. Is your content the right reading level for your audience, is it the right type (i.e. sales-focused vs. educational), does it include videos? These are all factors you should be considering when creating or refreshing content for SEO viability.
2. Engage Your Visitors with Visuals
The Psychology of Visual Marketing
Words may sometimes get visitors to your site, but textual content alone won't make them stay. Have you ever heard of visual decision making? It is the concept that we make many of our decisions such as where to go, what to do, and what to buy based on what we see.
In order for your website to be a really effective marketing tool, you need need to use plenty of visual content to grab and hold your audience's attention. Engage them with photos, videos, and infographics.
CloudRiff cites the following interesting stats on how visual decision making impacts marketing:
Only 10% of heard information is retained three days later. However, if a relevant image is paired with that same information, 65% of the information is retained three days later.
Using a video on a landing page increase[s] conversions by 86%.
Grids
Another great way to incorporate more visuals is by injecting them right into your page layout as part of a grid of content. By using the [grid] shortcode, a standard feature of Mai Theme, you can show a grid of posts, pages, and more anywhere you would like feature content you think your visitors might be interested in and add visual interest. Here's a grid of latest posts in a slider from the BizBudding homepage.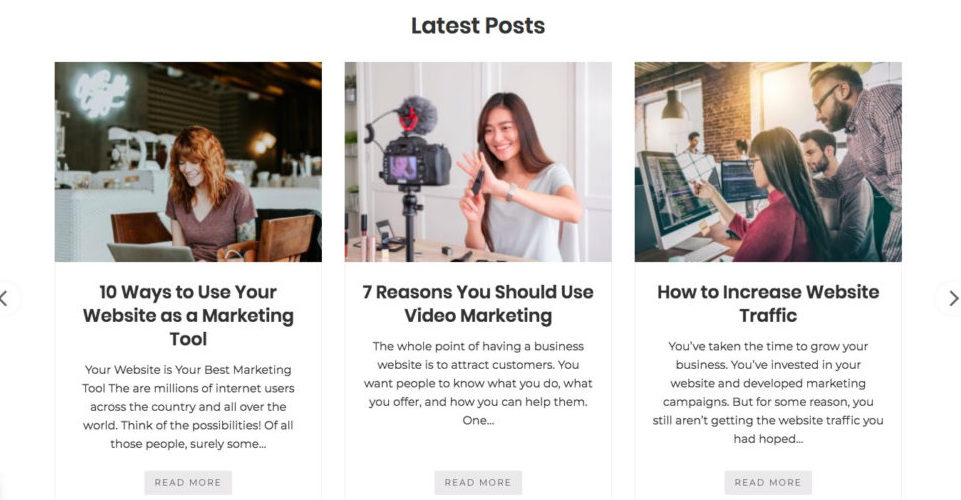 Banners
Banners are another great way to capture the eye and add visual cohesiveness. You could use a consistent banner image for all pages/posts or different images based on the content's topic.
In WordPress themes, you can quickly and easily set a default banner image or background color for your banner area. More features for customizing the banner area include overlay styling, inner box styling, adjustable height setting, content width and alignment, text alignment, and the ability to disable the banner on individual posts or globally by post type or taxonomy. You can even enable a setting to use the featured image as the banner image on posts/pages. With various effects plugins, you can even add parallax and fade effects to your banner or section backgrounds—without code!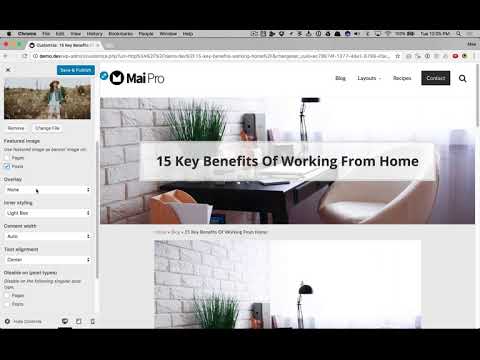 Favorites
Ever notice a lot of well-established bloggers have specific areas to showcase their favorite stuff? This could be especially useful if you are using affiliate revenue to monetize your site, however,  you can display collections of whatever you want—affiliate products, your own products/our-services, recommendations, etc. This allows you to add a link, featured image, short description, and a button link to learn more or buy. Check out The Paleo Mom's Recommended page for examples of what your favorites could look like.
3. Use Clear Navigation
A pretty website is nice, but your information architecture is one of the most important parts of your website design.
It may not seem obvious, but navigation is crucial to any good marketing plan because it impacts the user experience on such a significant level. A pretty website is nice, but your information architecture is one of the most important parts of your website design. Visitors come to your site to do something specific, like check for a product or price. If it takes too long for their immediate needs to be met because your site layout is confusing or unclear, your bounce rates will soar.
Make sure your main menu is well-organized, visible, and as simple as possible so that your visitors can easily find what they need. Additionally, be sure to utilize breadcrumbs, which help people navigate back to where they began if needed. Enable breadcrumbs by installing the Yoast SEO plugin and then from your WordPress Dashboard go SEO>Search Appearance>Breadcrumbs. Switch Enable Breadcrumbs switch to Enable.
Organize posts into 4-8 distinct categories, with each post only assigned to one (and not the "Uncategorized" category). By doing this, you ensure people can find the content they are actually looking for. Subcategories and tags can also be helpful if you need to further break things down. Categories are for broad groupings and they are also hierarchical. Tags are a way of getting more specific with what the content is about.
It can be a great idea to place links to your category archive pages on their own navigation menu to make your areas of focus clear and easy to find. Here's how we do this…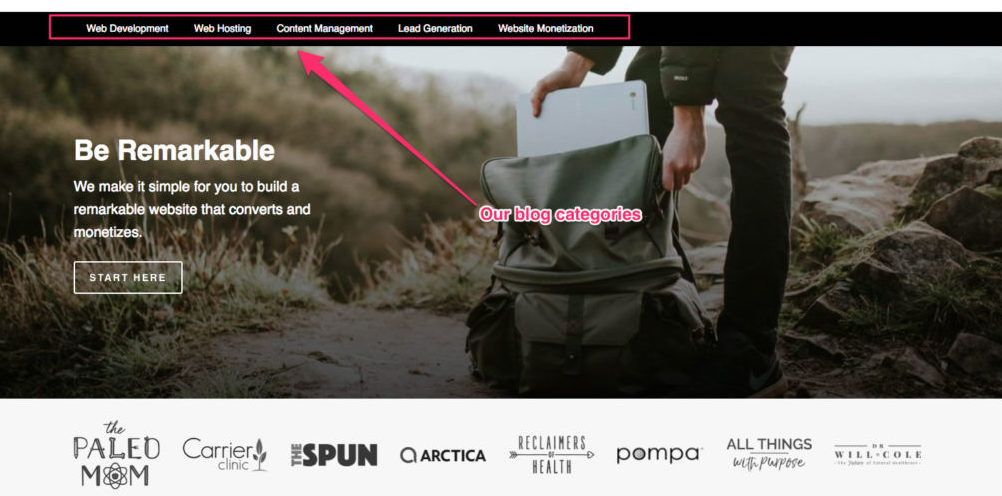 4. Update Your Content
Maintenance Updates
To start, make sure the basics are also up to date, such as your phone number and other contact information, events, company news, and pricing. Outdated info hurts both you and your visitors so make sure you stay on top of it any time a change occurs.
Secondly, you want to make sure you update your website content on a regular basis with new things such as marketing videos, testimonials, team updates, etc.
Sales, Promos, Events
If you are running a sale, special promotion, or sign up for a webinar, course, or other event, you'll want to make that prominent on your site. On-site retargeting is an important marketing tool you can use to display pop-ups or embedded CTA's to those whom you have segmented, have visited key pages, or have taken some action to show their interest in your what you have to offer.
Content Refresh
Content gets outdated eventually. If you are a content powerhouse, then this can happen even more frequently. You may have articles with overlapping topics that would benefit from combining, thin content that has no user or SEO value, or content that may just benefit from reevaluation.
Ask yourself, what else have you learned about a topic since you wrote your original post, what new products or services can you connect back to the topic, what key terms may you be missing?
Look at what your top competitors are doing.
Are they using a lot of videos in their content?
How long is their content?
What questions are they addressing?
What important questions are they NOT addressing?
You need to take all of this into account to be sure your content stays relevant and valuable.
5. Offer Value to Your Visitors
Have you ever received an unexpected gift? The law of reciprocity dictates that when people receive something for free, they feel compelled to return the favor. As an online marketing tactic, this translates to higher conversion rates.
While people love free stuff, make sure what you're offering has real value for your visitors. While this may sound counterproductive, by giving away a free white paper, ebook, consultation, case study, video series, etc., people will appreciate the value of what you are giving, and will be more likely to revisit your site or even buy from you in the future.
Personalize Your Offers
Conversion optimization increases even more when you target your marketing campaigns specifically to the individual. For example, through segmentation, you may know that someone has shown an interest in DIY chicken feed (we are like chickens here at Revel). With that knowledge, you can offer them a free guide to creating your own chicken feed mix on the cheep (we also like chicken puns) when they enter their email. In this case, the user has a much higher likelihood of converting because you are offering them something they would find specifically useful to their immediate needs.
6. Put a Blog on Your Site & Post Consistently
Most websites do have a blog, but often it is an area that is severely underutilized. If you ask why, many business owners will probably tell you they don't have the time or resources to post consistently, that they don't know what to write about, or they just may not see the value in keeping a blog.
However, the value cannot be overstated. A blog that you update regularly with fresh content goes a long way toward building trust, showing authority, and helps your site rank better. Reputable sources within your industry will also be more likely to link back to your website. In the internet marketing world, we call these backlinks. Having lots of quality backlinks is a signal to Google that you are an authority on whatever it is you do, translating to better ranking/traffic.
Each blog post should offer information and education that your potential customers actually want. Show them how you can solve their problems. Focus on the outcome and the transformation. Doing so will make it more likely that people will think of you when they are ready to buy.
7. Make Calls-to-Action Prominent
Whatever is it you want customers to do, make it easy for them with a call-to-action. Make sure it's as easy as a click or two to get your visitors to do what you want. You can emphasize your call to action by placing it somewhere prominent on the page, using a different colored button that stands out, or by putting it in a callout box.
WordPress themes that power different shortcodes, have a simple to use the callout shortcode to achieve this. Always utilize action-oriented words like "Register Now" or "Start Here" so users know exactly what to do, and use microcopy to guide, inform, or assure the user.
Here's an example of a CTA using the callout shortcode with some nifty microcopy (that regular size text in the middle).
With on-site retargeting, you can set up conditional CTA's on your website that change depending on where the person is in your sales funnel. For instance, if you have a real estate website you might want to first segment your visitors based on what kind of property they are looking for. Once you have gathered some data on them—maybe they show interest in purchasing a condo—you can then present a tailored email opt-in where they can get a free PDF on "Everything You Need to Know About Owning a Condo."
Show Your CTAs in Key Areas to Drive Conversions
You can display ads, CTAs, or whatever content you want in key areas on your site by adding your ad code to the area of choice. For CTAs this can save you a ton of time because you only need to add the code to a single area (i.e. before or after entry or even after a certain number of paragraphs) and select where you'd like it to show up (posts/pages/Simple URLs).
8. Keep Branding Consistent
As your primary marketing tool, your website is the face of your organization. Put your logo in your site's header so it is visible on every web page, not just your homepage. This helps build familiarity with your brand. 
Most successful websites also have a unifying color scheme and a theme in the imagery they use in their inbound marketing. Extend this look and feel to your social sites and emails and add other advertising and collateral materials to your site to further reinforce your brand.
Easily Update Fonts & Colors
While we do not advocate changing your fonts and colors once your brand has been established unless absolutely necessary, when first setting up your website, WordPress makes it super simple to make changes to your fonts and colors without the need for custom code.
9. Integrate Your Social Media & Email Marketing Strategy
Your online presence is more than just your website, but your website is the last point where you want people to end up. That means any time you do email or social media marketing, you should be linking back to your site. If you are a small business trying to make a name for yourself, then this is even more critical.
Include buttons on your website to allow your website visitors to find your Facebook page, Twitter, Instagram, LinkedIn, and any other social media platforms you use. Social share buttons allow you to get your own followers and likes directly from your website. We use and recommend Simple Social Icons for this.
Do you have a weekly newsletter? Instead of bogging down your emails with too much content, give a summary or sneak peek of your latest blog posts, then link back to the site where they can read the rest. The same can be done with social posts. Don't forget to track using URL parameters.
Having an integrated content marketing strategy is also important because you can utilize tags you've applied in your CRM as a way of personalizing what you show your website visitors.
10. Make it Mobile-Friendly.
Make sure you are mobile-friendly. A big part of that is having a responsive website. When you use a responsive design there is no need to have a separate mobile app, meaning any updates you make on your content management system translate on mobile as well. Check your site on a smartphone and various mobile device types to be sure you are providing the best mobile experience possible. You can also check that your site is mobile responsive by grabbing the corner of your browser window and dragging inward. If the content on the screen responds to this change by adjusting to the screen size, then it's mobile responsive. This gives you a good idea what your site looks like on mobile—typically when shrunk down, content blocks will appear stacked and the "hamburger" menu will replace the regular desktop menu. Another option is to test your site on Google to see if it meets their criteria.
If using on-site retargeting pop-ups, you should consider creating an un-obtrusive mobile version (in some software such as ConvertFlow, you can use conditional parameters that check for the user's device type to achieve this). This is important because if your CTA blocks content view-ability, and especially if there is no way for your users to easily close the CTA (like a No Thanks button), this could hurt your UX and even negatively impact your search engine rankings.
Your Homepage is the Second Page People See
Your homepage is obviously important, but unless your visitors are reaching your site because of a referral or direct search, your homepage is not going to be the first page that they see.
Instead, it will be a page related to whatever search query brought them to your site. For this reason, it's important that every page contains great content that's SEO-friendly and a clear CTA, utilizes a thoughtful link-building strategy, and that your website is running on a strong, fast foundation—your website theme and hosting. With all of these elements accounted for, you'll have a high-performing, cost-effective operation.
Website marketing should be the center of all your marketing efforts. Your website is where visitors come to learn about you, where transactions occur, and where they become invested in your brand long-term.
Are you using any other strategies as part of your website marketing strategy? Drop us a comment, and let us know what they are!