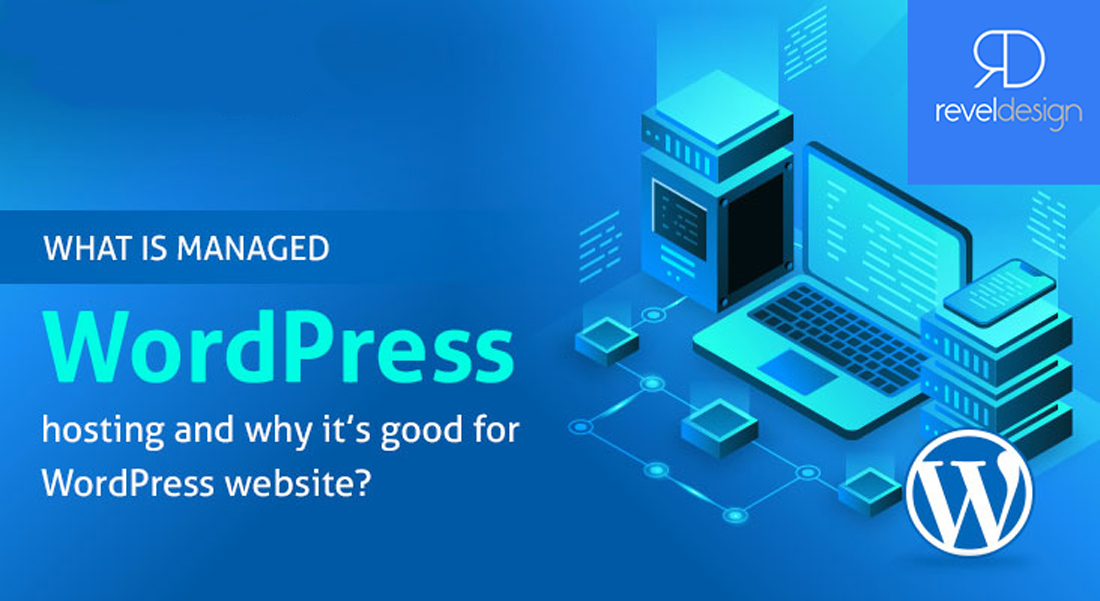 Switching to managed WordPress hosting… and how your website can benefit from WordPress Hosting
Managed WordPress hosting removes all the hassle of running a WordPress site. Here's how you can benefit by switching hosts.
Running your own website can be a nightmare when all you want to do is write amazing content. Downtime, server configuration, performance issues, software upgrades… Argh!
Managed WordPress Hosting
Managed WordPress hosting removes all the hassle of running a WordPress site. And not only that, managed WordPress hosting can supercharge your site in ways you probably never considered.
The best managed WordPress host that we recommend is Revel Design, which we use ourselves to run our sister sites. Keep reading to learn more about managed WordPress hosting and how you can benefit from it.
What Is Managed WordPress Hosting?
In the past, managing a large or high traffic WordPress site meant renting a virtual private server or dedicated server, both of which are essentially just a machine running Linux. Configuring the web server and installing additional server packages was all your job—and when something went wrong, you only had yourself to blame.
For a long time, the only alternative for those who had no server administration experience was shared web hosting: a generic, slow, but cheap kind of hosting where your site is operated on the same server as thousands of other sites.
Managed WordPress hosting is a happy medium between the two. It's more expensive than shared web hosting, but you get the performance of a dedicated server, plus a dedicated support team that handles the complicated job of managing the server operations, plus a raft of features specially integrated with WordPress.
So if it's more expensive, why should you choose a managed WordPress host over a simple cheap shared host?
1. Speed
Most people will click the back button if a site takes more than a few seconds to load. Google knows this, and has confirmed that page speed is a ranking factor. So if you want any chance of growing a successful website, it needs to be fast. It's no longer good enough to just exist online.
The best thing about using a managed WordPress host is that the good ones know WordPress inside and out, and they know exactly how to optimize your server for speed. The server is already configured perfectly for WordPress, with complex caching systems at every level. Even the basic WP Engine plan comes with a built-in CDN (Content Delivery Network) so your images load lightning fast. You don't need to install caching and optimization plugins either, because they already do that for you.
Don't underestimate both the SEO benefits of having a fast site, or the stress you'll save yourself from having to configure caching plugins by hand.
That said, while you're able to focus on content, it is still worth bearing one thing in mind: While a managed WordPress host can ensure the server is in top shape, you can still bog down your own site with poorly coded themes and plugins, so be careful what you install on your WordPress site.
There are many things that can go wrong on a WordPress site, even when hosted on the best-managed servers. Perhaps you're hacked and some malicious code is injected, or a plugin update didn't quite go as expected, or a WordPress update caused incompatibilities in your theme.
The quickest way to recover is to restore from one of your daily backup points.
But if you're not using a managed WordPress host, I'm sure you've got a backup plugin to manage that for you, or a daily command line CRON task configured? Right? And presumably you've tested it so you know the backups are safe and the process of how to restore your site from that raw SQL and GZ archive file that's generated?
You don't? Oh dear.
Yes, we all know the theory of backing up and why it's important, but realistically, how many of us actually do it, or would know how to restore if the worst was to happen?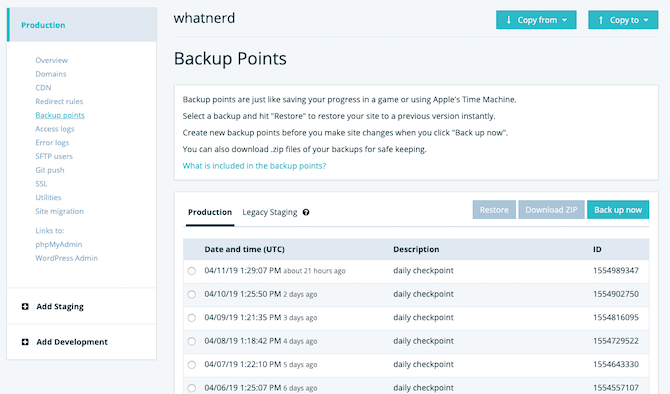 Managed WordPress hosting handles site backups for you.
It's configured by default for daily backups, but there's always the option to run an immediate manual backup with a single click, in case you want to set a checkpoint before, say, activating a new plugin.
Restoring your entire site and database is also a single click from your hosting control panel. It's that easy. I can't emphasize enough how much peace of mind and time savings this offers.
Backups are an insurance policy that you hope to never use. If you aren't currently backing up your website and database, then I suspect you've never experienced catastrophic data loss. Please heed our advice instead of learning about it the hard way!
Any Downsides to Managed WordPress Hosting?
In exchange for reliability, speed, and ease of management, you're giving up a little freedom.
Specific plugins are usually banned: things like Yet Another Related Posts Plugin, which are resource intensive to the point of being detrimental to your site and everyone else's.
Core WordPress upgrades are mandatory for security reasons, which in very rare cases may cause plugins to stop working. In this case, you can restore from a backup and request a temporary delay to the upgrade, but only until you've had time to either fix the plugin or find an alternative.
Lastly, you can only run WordPress. That sounds obvious, but with most web hosting plans you're free to run anything you want. Given the sheer flexibility of WordPress, it's incredibly rare to find a need that isn't fulfilled by some plugin or another, but it could happen. There's a very good reason that 30% of the entire Internet runs on WordPress.
Harden Your WordPress Site With a Managed Host!
Managed WordPress hosting is about peace of mind, giving your website the absolute best start it can have in life, and letting you focus on content. You can now have a great website without a degree in Linux server administration.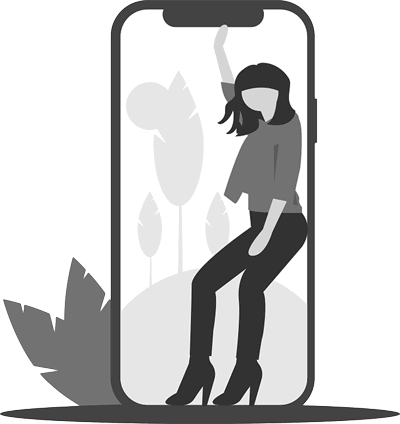 Learn More About Managed WordPress Hosting!
Have questions about WordPress and Managed Hosting? We would love to help, and see if we could save you money, while automating your website.